Jobo Automated Developing Unit (ATL 2300)
When I started off with my large format work, I had a couple of things on my 'dream list'. One of those was a drum scanner (which I'll come back to in a future post) and the other was one of Jobo's automated processing labs. Well it took me a couple of years before I finally started developing my own film in a completely manual Jobo unit and a few months after this a friend of mine, Baxter Bradford, told me he was selling his film gear and buying a Phase setup and one of the things he was selling was a Jobo ATL2300 with a load of extras and a whole host of spares. Well, fortunately I had a little cash and a campervan that would fit the thing in and so I became the pround owner of one of Jobo's flagship processing machines.
For those of you who haven't heard of the ATL 2×00 series, they consist of a thermostated bath, motor and lift – just like your usual middle of range Jobo systems, but they also have an automated chemical pumping system, a powered lift, a chemical heating system and program settings to automate all of these systems. It's as close you can get to a 'plug and play' system for film developing with investing with a full dip and dunk, replenishment system.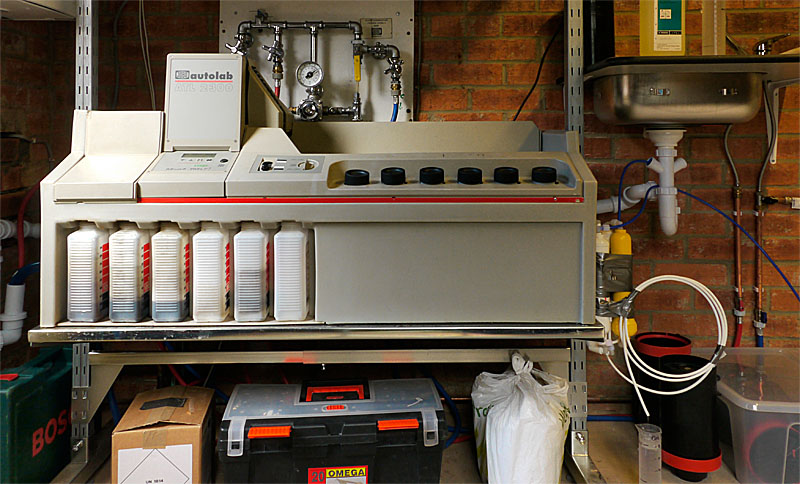 Soo – what does this mean for film processing? Well – for me it means I can mix my chemicals, load the film into a Jobo drum, attach it to the ATL and press a button. The system then waits until chemicals and water bath are up to temperature and then starts processing, pumping water and chemicals in at the right time, finally 'ping'ing when it's all done (although it gives you a countdown too so you can set a timer and wander off). Once it's done, it can either sit on a rinse cycle or just stop.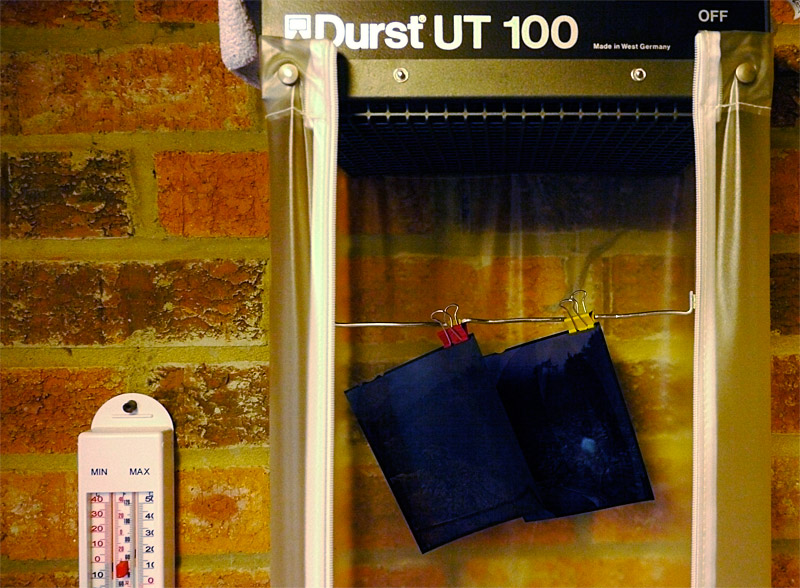 This isn't too much of an advantage, although it's nice not to have to sit next to the machine for most of the process – when you've a lot of film to develop this could come in handy. However, it will come in very handy soon when we don't have any more 3 bath e6 process chemicals left (you did know that they have all been discontinued? Buy up the last stock from AG Photographic while you can), keeping an eye on a 6 bath process just adds more scope for mistakes and more attention.
To support all this excessiveness, I've also set up an osmosis unit (a small yachting one) so that I can get pure water on demand (150ml in two minutes) and a tempered water panel which mixes hot and cold to a set temperature for the Jobo's rinse cycles (although this did contribute to a flood in our office – don't use mixers like this on a gravity fed system without a one way valve on the hot water; otherwise you end up with cold water shooting back into your hot water system, overflowing your header tanks and if all things are OK, causing water to overflow outside the house – or if things in your plumbing aren't OK, causing water to overflow into your office… DOH!).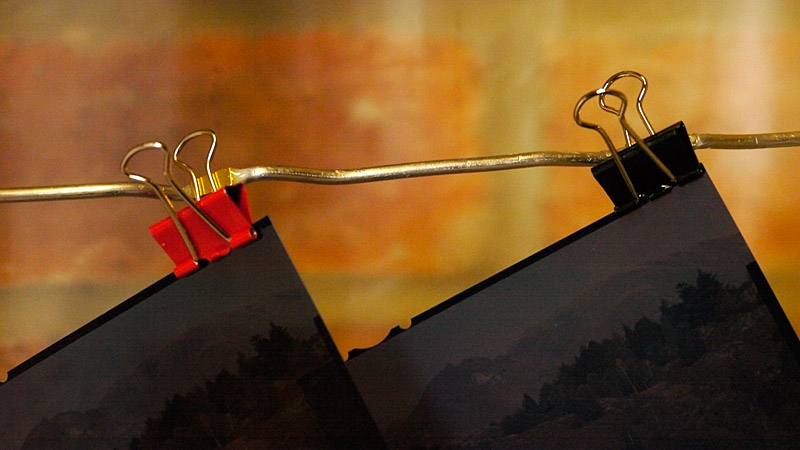 Anyway – I had fun setting all this up in my garage (with some sweet talking of ever patient wife) using one of IKEA's fantastic shelving systems. I also set up my recently purchased film dryer and had to solve a problem most people have in that most film dryers are configured to dry roll film and so trying to fit lots of sheets of film in a small space (about 12"x10") is tough.
However, with my penchant for magnets (see my Lee filter adaptations in older blog posts) and some flexible craft aluminium rods, I set up some inserts into the body of the dryer to make sure each sheet is separate and won't touch any other sheets. If anybody is intersted in this, drop me a line and I can send you some instructions.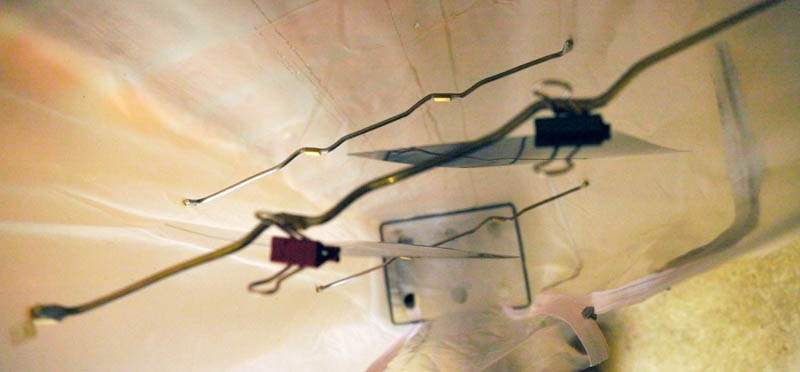 A couple of things I've learned since I last posted about e6 processing wouldn't go amiss at this point.
If you can, use distilled or at least filtered water. I would recommend getting distilled water for the first and colour dev steps as this will prevent any pH problems which can cause colour issues. Also, filtered water is a really good idea for the final wash as any dust in the final step will become embedded in the emulsion. (be wary of using distilled water in a Jobo – they use water resistivity to monitor the flow and distilled water doesn't conduct)

Much disagreement on how long to leave the first dev in. Some documents (few) say 6 minutes, others say 7 minutes. I use 6'30" and a few people I know use 7'00".

Pushing and pulling variations are varied. My research and experience suggests -30% for a one stop pull, +30% for a one stop push and +130% for a two stop push. Pushing will exhaust chemistry so don't reuse too much when doing so.

It's a good idea to 'dab away' the accumulating drops on the bottom of your sheets when drying. The concentrated stabiliser that will gather here otherwise will mark a corner of your film

I like the little bulldog paper clips for holding film. No marks on the film and they work with my magnets! (and cheap!)