Twistleton Scar – Black Hole Sun
Ah – A chance to go out in Yorkshire again so it's back to old haunts. Places like Malham Cove have loads of opportunity but I like the mass of 'ingredients' that the limestone pavement that Ingleton and it's surrounds give (I also like that they don't push you into taking a certain angle or subject). So it's up to Twistleton and a quick walk up to the scar. The weather was windy and cold but invigorating and apart from a brief moment of nearly getting knowcked over as you crest the edge of twistleton, everything was sublime. Sunbeams were scanning across Hawnby and you could see out to Lancaster and Morecombe Bay (digital snap below – fast moving light and a frantic search for foreground meant no LF of this one).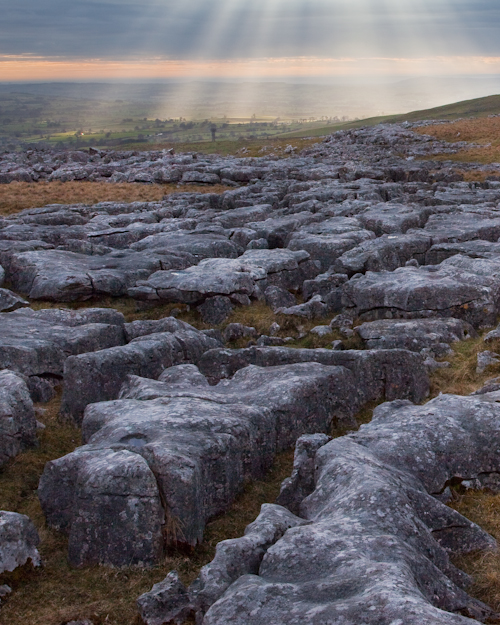 We then wandered around to the east side of the wall at Twistleton Scar End. I spent some time working around the row of trees on the pavement and also a large hawthorn where we were resting, I've posted the black and white conversions below – feedback appreciated.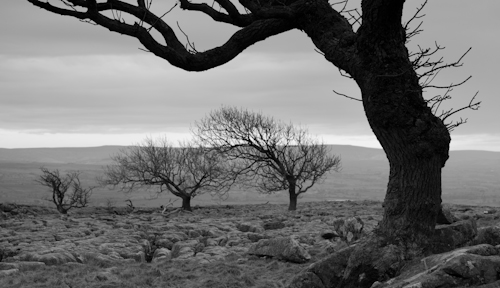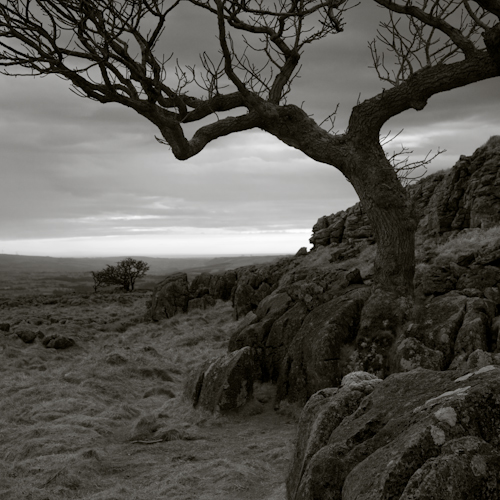 After a while, I started scouting subject matter to work around the dramatic sky that was developing just over Barrow and just as I started setting up a shot, I started to have trouble focussing. No matter what I did, there was a great big blur over Morecombe bay. I came out of the dark cloth to see the biggest front of rain coming in and the view almost completely obscured!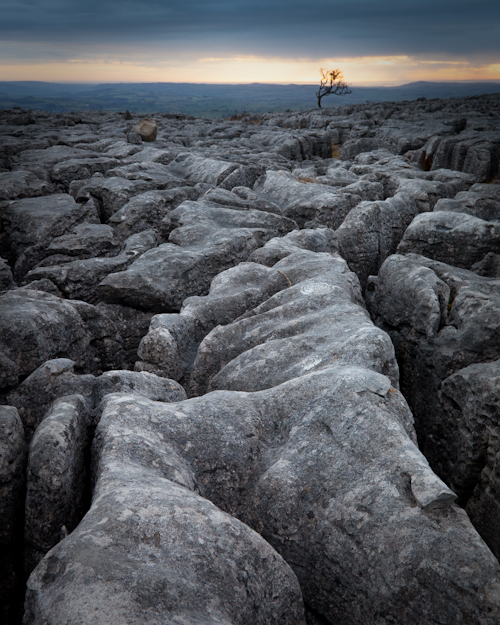 Nothing for it but to wait it out and get pee'd on. Just as the rain started to abate, the sun poked it's head out – more rain looked like it was on it's way and it was gusting 30-40mph. Just as I was about to go back under the dark cloth to check focus, I saw that the wet flat areas of pavement were picking up reflections from the low angled sun but, unfortunately, the best bits were about 200 ft to my left. Another quick move, setup and recompose and I was again waiting for the rain to stop and wiping the lens down every few minutes – a frantic setup often leads to compromises and I focussed this one by eye (no loupe) and took two exposure readings (the edge of the sun – around an EV13, and the foreground, around an EV8 for the mid-tones) and dropped a 3 stop hard grad in place and crossed my fingers.
I managed to get four frames off, a Provia, an Astia and two Pro160S's. The main picture is the Astia which came out very well and is sharp as I could expect (the pavement is spot on, the horizon is OK and the tree itself is a bit blurry from the wind I think), although a little underexposed, it seems to capture the feeling I wanted (at least for me).
Driven back off the hill by the wind and rain just as the sun set, it was a dark walk back to the car with head torch battery slowly failing, but a very satisfying way to get back in the photography driving seat.