Landscape Photography Accessories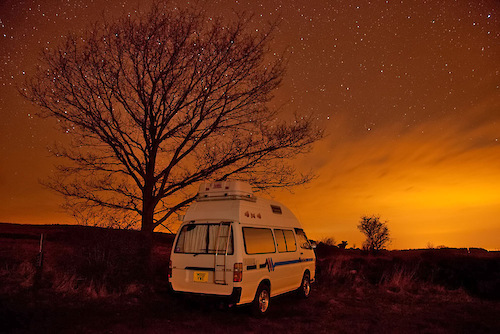 So, the pain, missed shots, slipped discs and just downright frustration of this winter is just not to be repeated. Our current mode of transport is great for long distance cruising and copes well around town but a 3.0L 230bhp Automatic with big low profile tyres in the snow? Nah! Double Nah! Embarrasing even… and it cost me a week in bed as I tried to push it out of Brimham Rocks car park (even before we'd actually parked).
Anyway, I'd been considering a campervan for a while and I'd been looking at a website that imports 'rust free' Toyota Hiaces from Japan for some time (http://www.poplarmotors.co.uk. There are some 4×4 2.8L Diesel engined Hi Top vans that looked very nice and so we planned a trip down to Chesterfield to take a look, planning to buy later in the year.
As it happened, the garage had the perfect van (i.e. High top, night heater, 2.8 non turbo diesel, very clean, <£10k, awning, open conversion with good window views, gas/electric fridge, gas hob, space for roof locker, sink, mini-toilet). It was in very good condition and only had 60,000 miles on a 94 plate and was just the right price. The night heater was a bonus as I was thinking I would have to fit one for an extra £800-£1000 pounds (a night heater is a little in built efficient diesel burner that exhausts fumes outside of the van and uses a heat exchanger to warm the inside of the van – hopefully very useful when camping in winter conditions).
We had to have a serious think but as far as I was concerned, this was the one. I had done quite a bit of research before hand and discovered that the Hiace is used in third world countries around the world as a minibus and transporter. Story after story I read stated that they were unkillable and would tackle even the most ridiculous of potholded, muddy African roads and the 2.8 diesel engine is so easy to work on and spares available so cheaply (China used to Hiace as the model for it's own line of people carriers with compatible parts supposedly) that I shouldn't need to do much work on it (compared to some of the other better specced manufacturers cars which are a little prone to breakdown – including the 2.4 diesel turbo in the UK version of the Hiace). It took a bit of thinking about (OK, not much) and we put our money down.
A couple of people have said "Is it really a proper 4×4?" – well, take a look at the following video of a minivan version taking on a 4×4 jeep..
If you're short on time, skip to these times, skip to 1'47", 2'45" and 5'10"
Another good example is
We went to pick it up on the day that me and Dav were starting out large format course and it drives beautifully – well OK, a little bathtub like cornering at speed but it reminded me of my old Morris Minor Traveller – even down to the 50mph limit going up hills

it does cruise at 60 nicely though, enough for me..
We've yet to try it out for an overnighter but a trip to Whitby is on the books and I'm planning on getting a set of chains so that my personal case of seasonal affected disorder (or "missing effing winter shots") does not occur again.
As a couple of colleagues have said, the most important part of photography is being in the right location at the right time and given that, a campervan has to be the ultimate landscape photography accessory!
Poplar Motors supplied this Camper Van and they're very nice people!